Jabra Elite 65T Wireless Earbuds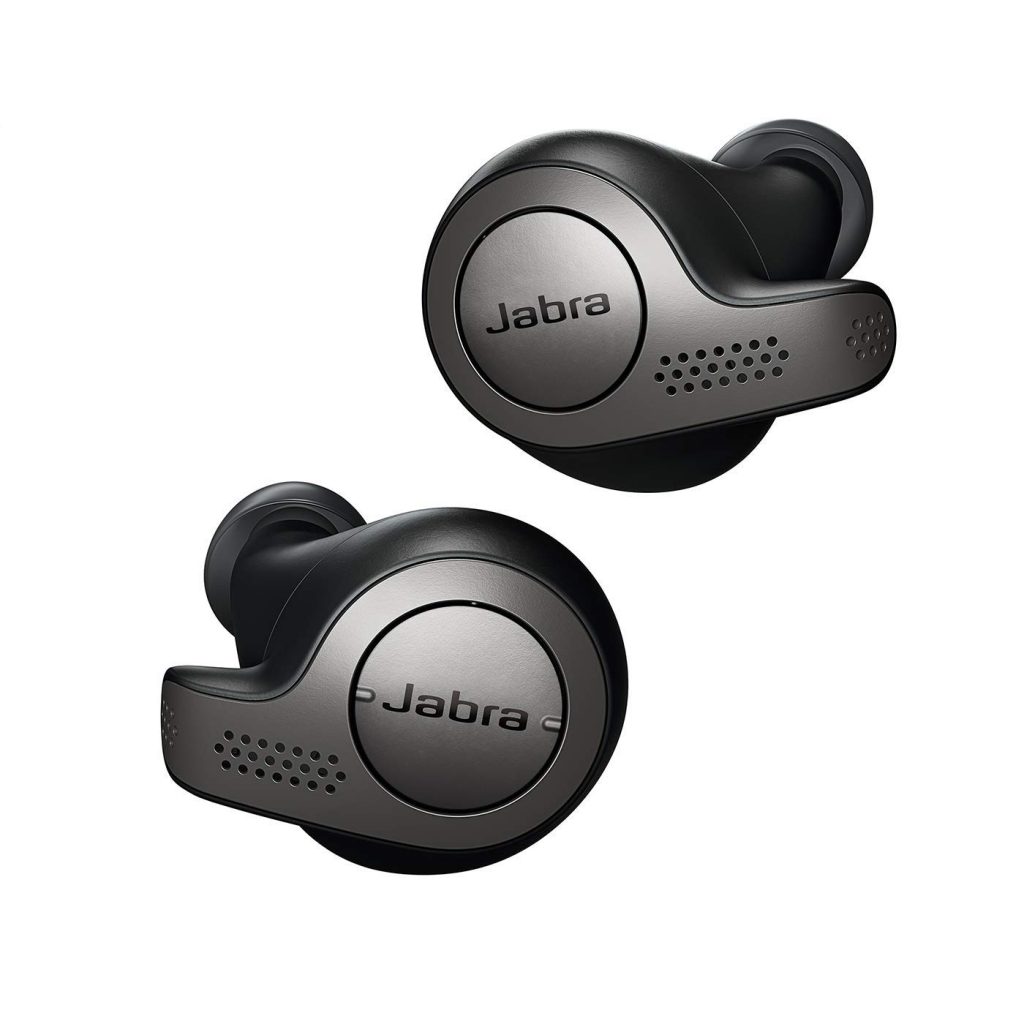 The right earbud is Master and should be used to initiate set-up. It can also be used alone for mono playbacks or for calls
3-Up to 15 hours of use – Up to 5 hours on a single charge, and a total of up to 15 hours with the charging case
IP55 rated; 2-year warranty against water & dust (registration required with the Jabra Sound+ app)
Customisable music using the Jabra Sound+ app equaliser , Auto Pause your sound when removing one earbud and Auto Power off to save your battery
Remember to update your firmware in the Jabra Sound+ app to experience the high sound quality; One touch access to Alexa, Siri and Google Assistant ,Third generation true wireless
Jabra Elite 65T Wireless Earbuds
Jabra Elite 65T Wireless Earbuds are engineered for the true wireless calls and music experience, offering clarity of sound for conversations, and up to 15 hours battery with the included charging case. It is IP55 rated against damage from water and dust. With a customization equalizer, you can personalize your music to make it sound the way you want it to be heard.
Sidetone
Sidetone enables you to hear your own voice when you are on a call. Sidetone settings can be configured using the Jabra Sound+ app. When you remove an earbud from your ear while listening to music, the music will automatically pause. To unpause the music, place the earbud back into your ear within 60 seconds. After 60 seconds (or when mono playback is preferred) the music can be unpaused by pressing the multi-function button.
To conserve battery the right earbud will automatically power off when it is out of range of your smartphone for 15 minutes and is not in the charging case or when it has been inactive for 1 hour. The left earbud will automatically power off when it has not had a link with the right earbud for 15 minutes and is not in the charging case.
To power, the earbuds on, place them in the charging case or hold the multi-function button on the right earbud and/or the volume down button on the left earbud, until the LED flashes. Charging Case, micro USB cable, 3 sets of Silicon EarGels, Quick Start Guide, and Warning Leaflets, TA label.
Reviews
This is a 100% genuine and well thought out review. please consider them before you buy Jabra Elite 65T.
Pros:
1. Decent battery life.
2. Jabra app with equalizer and other features.
3. No lags while watching videos.
4. Easy to carry around.
5. Fairly good noise cancellation.
Cons:
1. Below average sound quality for the price.
2. The left earbud does not work independently. The right earbud is the master and left is the slave.. so only right can be used independently.. not so in case of Apple AirPods
3. Equalizer settings in Jabra sound + app and Google Play music are at constant disagreement.. you have to literally set the preference in each song if you are an audiophile.
4. Works only if you are nearby the source like TV or smartphone. One wall in between and that's about it..!!
5. Once paired with the phone you have to redo the pairing procedure with the same phone again after you connect it to some other source like TV.. really disturbing.. don't know how long the buttons will last with all the pressing..
6. Poor built quality- notice that as soon as you open the charging case you can feel it is so loose and almost going to break. one of my earbuds (default medium size) got torn off while trying to put a new size of bud.
7. For some strange reason when a new song starts playing, audio starts from left earbud and slowly comes to the center.. this happens to every song for quite some time until it stabilizes.. really irritating.
8. Ears are paining after constant use of up to 3hrs.. feels bulky on the ears.
After spending Rs.5999 and with a lot of expectations, the cons are far too disturbing to trust this brand to function satisfactorily even during the warranty period of two years.. unless you're that rich kid who got plenty of money to show off.. please reconsider buying this.. Unfortunately, there are not many good alternatives for Android phones..