What is FASTag?
Fast tag (FASTag) is an Electronic Toll Collection (ETC) system based on Radio Frequency Identification (RFID) technology. The electronic toll collection system started in 2014. The FASTag is operated by the National Highway Authority of India (NHAI).
You need to link your bank account or Recharge your Fastag account.
Whenever your vehicle passes through toll plaza the radio frequency identifies your vehicle and it deducts the amount from your Fastag account. This ensures your vehicle keeps moving without stopping for cash at the toll plaza.
Return Toll:
To promote digital payment return journey discount will be available to FASTag users only. No return toll will be issued for the cash journey making cash toll expensive for those who return within 24 hours.
15th January 2020 is the date when No return toll will be issued for cash trips.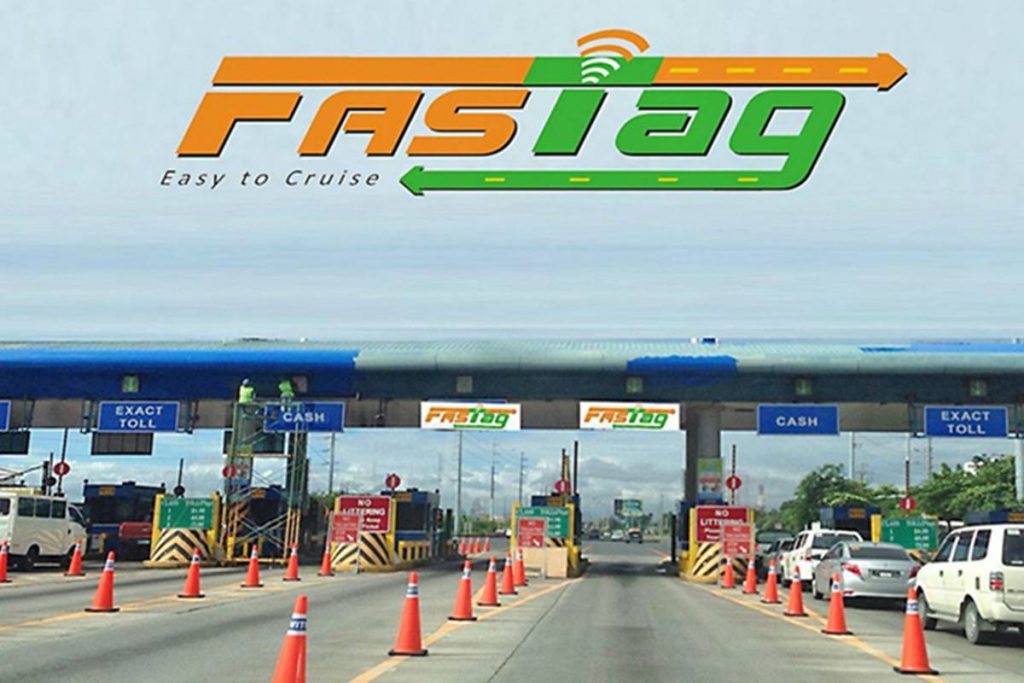 History of Fastag:
Fastag system was started in 2014 as a pilot project on the Mumbai Ahmedabad highway. After the initial success, the Fastag was rolled out to the Delhi Mumbai route in November 2014. By July 2015 Bangalore and Chennai highway also started accepting electronic toll payments.
In 2016 Govt body NHAI announced that 70% of all toll plazas are now Fastag ready. Full fledge Fastag was rolled out in 2017 when the NHAI launched a dedicated lane for all major 370 Toll plazas in the country. On top of it, the Government made FASTag compulsory for all new vehicles sold after December 2017. Now in 2020, the Government made it compulsory to have all the vehicles have FASTag. If you have many cars, you need to buy a separate ETC Fast tag for each vehicle.
15 December 2019 is the date when FASTag becomes mandatory throughout India.
Any vehicle passing from the FASTag lane without the tag will have to pay double the amount of the Toll. If toll plazas have 5 Lane 4 of them would be Fastag lanes and only 1 lane is kept for the Cash lane. If you don't have FASTag, it will take 15-60 mins on each toll plaza to pass depending on the traffic on that toll plaza.
Vehicles Exempted From Fastag:
All the 4 wheeler vehicles are mandatory to have FASTag. The only exception is The motorcycle and Three Wheelers.
There was a rumor that Advocates will not have to pay Toll at Toll plazas. NHAI on 16th December 2019 issued a notification clearing the doubt that Advocates are NOT excepted from paying toll payment at toll plazas.
Ambulance and Funeral vans are still exempted from paying tolls.
Apart from these all vehicles, Even Government vehicles must have to stick the FASTtag on the windscreen. Recharge to the Government vehicles will be done by the appropriate department.
When you get a fast tag you need to stick that radio-frequency identification tag on the front windscreen of your car.
Benefits of FasTag
FASTag is an Electronic Toll Collection (ETC) system based on Radio Frequency. It eliminates the need for cash to pay toll fees, greatly reducing delays at toll booths and traffic in queues.
The main benefit of using FasTag is that it's fast and easy to use. All you have to do is stick the Tag on your car's windshield, then pass through a designated lane – you're done! What could be easier? One of our favorite benefits of FasTag is its convenience when traveling in different cities.
Faster traffic flow – reduced congestion and waiting times, improved traffic conditions. Minimizes vehicles stopping at Electronic Toll Plazas for toll payment thus enhances vehicle movement capacity on Indian roads.
ease – easy to use with no need to carry cash or loose change. One-time fees that are paid upfront in one easy go/transaction with usage charges deducted monthly from the pre-paid balance.
security and safety – the RFID tag acts as a secured barrier between an untoward element intercepting
How To Recharge FasTag online
You can Buy FASta online from Amazon. Or Get it from in offer